The Author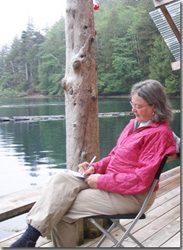 RJ Harlick is an escapee from the high tech jungle. After working for over twenty-five years in the computer industry, first for major computer corporations such as IBM and DMR Group, then with her own management consultancy practice, she decided that pursuing killers by pen would be more fun than chasing the elusive computer bug.
Originally from Toronto, R.J., along with her husband, Jim, and their standard poodles, Sterling and Miss Molly, now bides her time between her home in Ottawa and log cabin in West Quebec. A lover of the outdoors, she spends much of her time roaming the forests of the Outaouais. Because of this love for the untamed wilds, she decided that she would bring its seductive allure alive in her writings. This she has done in her Meg Harris mystery series, where the wilderness setting plays almost as large a role as the main character, Meg Harris.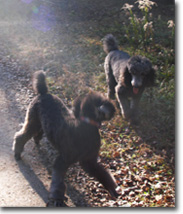 She has also published short stories with the latest When the Red, Red Robin… appearing in the Ladies Killing Circle Anthology, Bone Dance. One of her stories, Lady Luck, was a winner of the 2002 Bony Pete award and appears in the Bloody Words Anthology.
R.J. is actively involved in various writing associations. For Canada's nationally based association, Crime Writers of Canada, she has served as President, National Vice President and Regional Vice President. She was also president and program chair for Capital Crime Writers, an Ottawa based organization. She is also a member of The Writers Union of Canada and the Quebec Writers Federation.